Congrats to our winner PAM!
I finally decided it was time. Maybe it was the stubborn ever increasing muffin top that pushed me over the edge, or the fact that my daughter asked me if I wanted to start shopping at Lane Bryant (not that there's anything wrong with that) but I realized I just didn't feel good. And not it's a not about a goal weight for me– I don't own a scale, it's about how I feel in clothes- it's about wanting to wear clothes and be able to tuck in my shirt. It's about not dreading THE THOUGHT OF wearing a bathing suit. Its about feeling lighter which translates into ultimately feeling better.
I don't want to give up on my body, I don't want to be complacent about that ever increasing jeans size, and that I was at a point where I only felt comfortable in stretch pants. I want to take back ownership over how I feel, and I know the keys to all of that are changing my diet and just moving.
Luckily I've got the moving part down. and yes it feels good, really good. Sure I HATE getting off a warm couch (is there ANYONE who doesn't?!) but as long as it keeps my muffin top at bay, I'm willing to take as many as I need to for the team.
Which is why I LOVE The Nautilus CoreBody Reformer  home fitness product. This is a must-have for ANYONE on-the-go wanting to lose more weight, tone-up or simply maintain the body she's worked so hard for. The CoreBody Reformer is not only portable but engages multiple muscle groups all at once using Pilates, yoga and dance. It can even be folded up into the size of a yoga mat for easy storing.
">
But not only do you get the CoreBody Reformer when you purchase this equipment- but you get all these goodies too!
Included with Every CoreBody Reformer® Purchase

4 Different Complete Workouts ($60 Value) on 1 DVD. Total Body One, Total Body Express, Core Essentials and Stretch & Renew, combining yoga for flexibility, dance for cardio and Pilates for core strength.

Go-Anywhere Fitness Flipcards ($16 Value) illustrating more than 32 exercises unique to the CoreBody Reformer®. The cards include 8 recommended workouts and are color coded for target areas.

Weight Loss Plan ($30 Value) helps you customize a balanced diet of carbs and protein to maximize energy gain and fat loss. Whether you're dining out or eating in, the Weight Loss Plan shows you how to enjoy your favorite foods — while losing weight.

A Workout Poster ($10 value) is an inspiring reminder of how fast you're seeing results, by keeping track of your progress week by week as you advance through the program.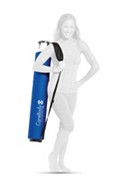 A Carrying Strap that makes it easy to take along everything you need for a complete CoreBody Reformer® workout, no matter where you go.

Blue Washable Cover ($35 value) keeps the CoreBody Reformer® looking — and performing — as good as new.

NEW

10-Day Kick Start Meal Plan
available for instant download as soon as your order has been processed. Start seeing results right away!
You can learn more about the CBR, make a purchase and search their additional tools by checking out the CoreBody Reformer website, Facebook or Twitter pages. You can also watch more videos by accessing the CBR YouTube Channel. 
And guess what? We are giving one of these INCREDIBLE  CoreBody Reformer 's and all it's goodies too to ONE LUCKY READER! For one entry leave a comment here with one reason you NEED this product! For a second entry you can Follow @MelissaSChapman on Twitter and Retweet this giveaway! For a Third entry you can Like  Married my sugar daddy on facebook!  For a fourth entry you can follow MelissaSChapmanwriter on Instagram and for a fifth entry you can follow @MelissaSchapman on Pinterest Good luck! Giveaway ends June 3rd!